While Google Chrome may have come a long way enhancing browsers and reshaping the world of Internet, Shockwave Flash error still remains the most unsettled and somewhat puzzling annoyance of this progressive net surfer. Shockwave Player is Chrome's built-in Adobe Flash Player that renders interactive web activities, and displays advanced Flash content, including animated games and sophisticated videos. With this plug-in integrated by default, users no longer have to install a separate software to drive such media and witness a seamless Web experience.
The foremost solution which is always encouraged is checking your PC primary healthiness and restoring any discrepancy found that perhaps is bringing about the disturbance:
Step 1

: Download Systimizer – PC Cleaner Tool (Intel Premier Partner – Compatible with Windows 10, 8, 7 & XP).

Step 2

: Click "Scan" to find Windows errors.

Step 3

: Click "Fix" to eliminate all troubles.
Unfortunately, they often do; while Chrome may come with its own integrated version, other browsers need to call upon Flash installation from the host system to fulfill their tasks. These multiple installations create a conflict, and force Chrome to attempt to use both the Windows installation and the internally incorporated Flash instance. Upon failing to load any, Chrome freezes and displays the Shockwave crash report (the plug-in (Shockwave Flash) isn't responding), to impede any further web activities.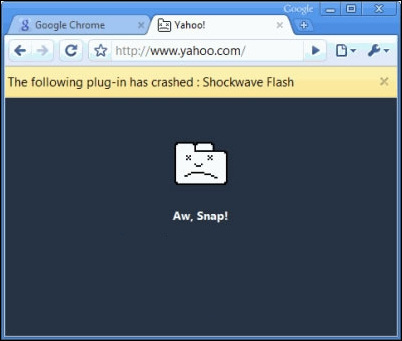 Fortunately, the cure to this problem is not as intimidating as the error itself. This tutorial walks you through the easy steps to diagnose this conflicting issue and fix it without breaking any sweat.
Solution
To check for conflicting Flash installations, access Chrome plugins and disable the system version:
Open Google Chrome and type chrome://plugins in the address bar
Hit Enter to display a list of all installed plug-ins
Navigate to the Flash section
If it reports to contain multiple files, it means you have installed more than one Flash plug-in, causing the software conflict. To disable the computer file, follow this procedure:
Click Details icon displayed at the top right to view greater in-depth information
Navigate to Adobe Flash Player
Notice Location of each file
Chrome's integrated version will be stored under the path [User Folder]AppData\Local\Google\Chrome
System's version will be stored under Windows system folder, C:\Windows\..
Disable system's version to avoid any further conflicts
Configure Flash Player to Operate Only When Needed
While you could disable the plug-in entirely, a better alternative is to use Flash only when required by the browser. In this scenario, the Player remains disabled by default, but if you visit a webpage that needs Flash, you can load the plugin on-demand. To do this, execute the following:
Open your browser
Click the "three horizontal bars" icon displayed at the top right
Go to Settings
Scroll down and choose Show advanced settings
Under Privacy, click Content settings button
Reach Plug-ins section and enable Click to play
Click Done shown at the bottom
Check for conflicting Software
Some system software, such as malware and network-related programs, can conflict with Google Chrome, causing it to freeze or experience a crash immediately. To check for this issue, Google provides a hidden page that can be access by entering chrome:\\conflicts into the URL bar. This will display all software installed on your system that is known to trouble Chrome. Also, you could check Software that crashes Google Chrome page on Chrome's website for a list of programs that are potential threats to this browser. The page also goes on to describe troubleshooting steps to solve particular software conflicts.
If you find any interfering software on your system, immediately update it to the latest version. This can done by visiting the developer's website and downloading all available enhancements. Also, you could try disabling the application and see if that fixes the issue without brining you any other problems.
Other solutions
Your error will most likely be solved by performing the above solutions. However, if your issue persists, you could try troubleshooting a buggy extension.
To do this, disable each extension at a time and check to see whether the problem stops at some specific instance. If it does, you can blame that element as the root to your trouble.
Launch Chrome
Type chrome:\\extensions and press Enter
You should now see a list a of all installed extensions
Remove all checkmarks against Enabled to disable all extensions
Now, enable each extension one at a time, and cruise through webpages after each move
If activating a specific add-on resulted in Shockwave Flash error, that identity can be blamed as your culprit
Either disable it or uninstall it from your system to fix your error
Surf through advanced media websites and check if the issue resolved. If it does not seem to vanish, final option would be to uninstall Chrome, and reinstall a clean version from the developer's website. This will guarantee a cure to your problem.
To remove Chrome, use Uninstall a program feature listed in Control Panel. Locate Chrome and uninstall it to give way for a cleaner version.